School Trips to Barcelona
As the historic centre and capital of Catalonia in Northern Spain, Barcelona has an inimitable feel that no other Spanish city can match.
School trips to Barcelona offer a diverse experience to students of all ages and subjects – from the modernist architecture of Gaudi and surreal art on show at the Museu Picasso, to the bustling atmosphere of Las Ramblas and illustrious heritage of the Camp Nou.
There's nothing like the full immersion effect to get students in the right frame of mind when it comes to improving their Spanish. Although (as any Catalan will doubtless tell you, whether you ask them or not) Barcelona is the capital of Catalonia and has its own Catalan language, the city's most used tongue remains Spanish thanks to a large number of residents from other parts of Spain, as well as a sizeable population of South Americans and Spanish-speaking foreigners.
Does it sound like a school trip to Barcelona could be the ideal excursion for your school? Get in touch to find out more information or advice on all available options.
Browse our curriculum-linked school trips in Barcelona
Experience the excitement of Barcelona with our video...
Barcelona trip highlights - our groups love...
Students are left stunned by the unique architecture of La Sagrada Familia, an iconic building in the Barcelona skyline.
Inspire greatness in your group at the home of one of the world's most successful sports clubs. View all of the trophies, take in the huge 100,000 seater stadium, and relive FC Barcelona's brilliant history during a guided tour.
The beautiful Park Güell is another must-see on any trip to Barcelona. Situated in the hills to the rear of the city, climbing to the top provides incredible views back over the entire city and out to sea. The park is another part of Antoni Gaudi's significant contribution to the city's architecture; the main attraction being the mosaic terrace.
Let your group explore Las Ramblas, Barcelona's main boulevard. Bustling with activity day and night, it's a great way to experience the local Catalan culture and see how tourism impacts the city.
Las Golondrinas Boat Trip
This hour-long trip across the Port of Barcelona will allow you to see the main cultural sites along the Port area, including the Maremagnum, Aquarium, the 'Porta d'Europa' bridge, a great view of the castle and Montjuïc.
Poble Espanyol is an open-air museum replicating a complete village, consisting of streets and squares of famous or characteristic buildings from all over Spain. Students can practise their language skills in the many buildings housing working craftspeople, souvenir shops, cafés, and restaurants. We also offer interactive workshops on Spanish crafts such as ceramics and leather jewellery, and Spanish cooking.
The renovated harbour area has a number of attractions including the IMAX Cinema and Maremagnum. Students can explore the largest aquarium in Europe, observing over 450 different species and marvellous underwater scenes. Visit the wide range of shops, eateries, an arcade games centre and a state-of-the-art large screen cinema, offering 3D movie experiences, too!
We have been working closely with PortAventura to bring you the very best value tickets. PortAventura has everything to make a trip here unforgettable! Both students and teachers will have a great time in the two amazing parks. PortAventura Park is an astonishing amusement park divided in six thematic areas with many rides and shows. Costa Caribe Aquatic Park is a water park packed with waves and slides. Together you can travel around the six themed areas of the park: Mediterrània, China, México, Polynesia, Far West and SésamoAventura. Take in several shows, from the dazzling wonders of Teatro Imperial in China to the exotic dances of Polynesia and then enjoy the thrills and spills of the many, many rides.
This historic, hilly area provides the best views of Barcelona. Students can explore its wide range of attractions, including the Olympic Stadium and the famous Spanish Village, Poble Espanyol, as well as artisan workshops and tapas bars. The Magic Fountain of Montjuïc offers a spectacular display of colour, light, movement, water and music too!
Originally a Roman Village, this beautiful area is a fantastic combination of old and new with the main attraction of a stunning cathedral. The narrow winding streets, with their many shops and eateries, are great for exploring!
On the ground support...
There's a lot to contend with when travelling abroad, and many teachers find the service of NST's Barcelona City Representatives invaluable. We can arrange for your representative to meet you on arrival, assist you with hotel check-in, advise on points of interest and public transport and provide your group with 24 hour emergency assistance. With NST, you can be safe in the knowledge that you'll never be on your own on your school tour.
Our representatives will also be happy to discuss your programme of visits, offer an insight into your destination and suggest popular evening activities too.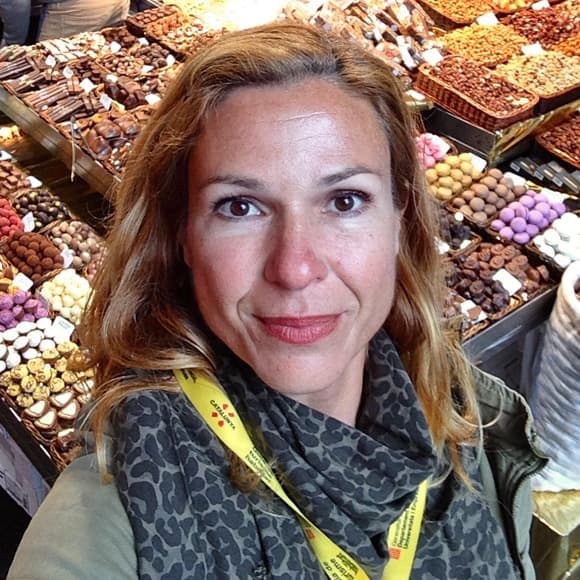 Planning your first school trip?
If you're planning your first school trip, our essential guide will take you through each step of the process...
Choosing your destination
Gaining approval from your Local Authority and/or your Head
Promoting your tour in school
Confirming your booking
Tailor-make your tour
Completing your risk assessments (including a sample risk assessment)
Quick reference timeline
Pre-tour checklist
Additional support, resources & information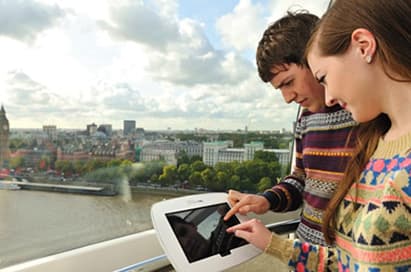 Tour planning service
With NST, you'll get your own dedicated, knowledgeable Tour Co-ordinator who'll work with you from start to finish. You'll benefit from their unrivalled destination knowledge, and their experience gained from working with many other groups too. They'll tailor-make your itinerary from scratch and take care of everything for you:
- Pulling together an itinerary that runs smoothly
- Planning the right balance of visits every day with realistic timings
- Pre-arranging and pre-booking your visits, entrance tickets, passes and meals
You'll receive your final itinerary a full 4-weeks before you travel too.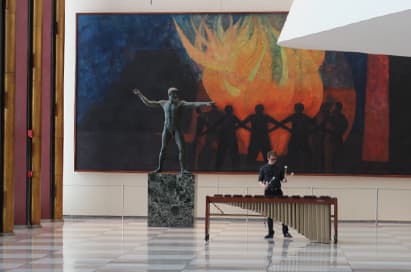 Free trip promotion pack
We'll support you and provide everything you need to advertise your school trip around school and to parents. Our free school trip promotion pack consists of:
- Parents' letter & permission slip template for you to complete A3 posters to promote your trip around school
- PowerPoint presentation templates which you can tailor to your own needs
- Parents' leaflets covering how NST manage safety, financial protection and details of our travel insurance
- Online parents' video which showcases the benefits of taking a school trip
For selected destinations, we'll provide a trip launch web page using video footage and imagery. This web page is provided by a weblink and can be shared with pupils and parents in many ways.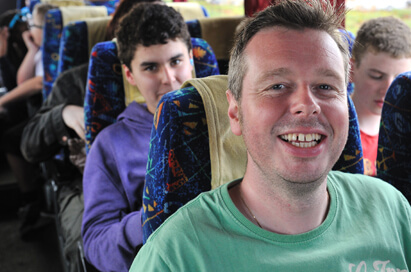 Risk assessment support including preview visits
Risk assessment support including preview visits
Risk assessment plays a vitally important part in the planning and organisation on any school tour.
Our risk assessment guide aims to help you understand more about your obligations and how you can more effectively manage group safety on your next educational visit and provide you with risk assessments for your trip.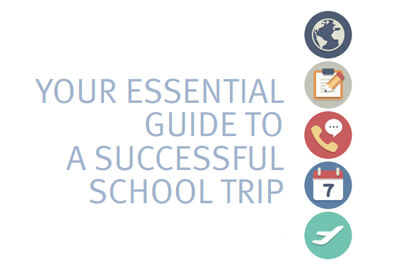 Planning your first school trip
Planning your first school trip
Organising your first school trip can appear to be a daunting process. If you're planning your first school trip, our guide will help to take you through each step of the planning process, answering frequently asked questions and providing tips and support along the way.
Our helpful guide covers the following:
- Choosing your destination
- Gaining approval from your Local Authority and/or your Head
- Promoting your tour in school
- Confirming your booking
- Tailor-make your tour
- Completing your risk assessments (including a sample risk assessment)
- Quick reference timeline
- Pre-tour checklist
View our essential guide to a successful school trip here.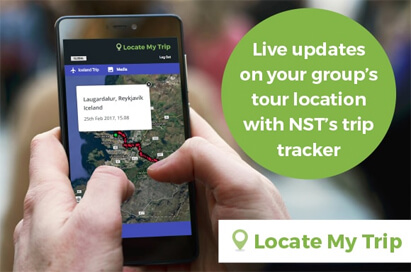 Get live updates on your group's tour location
Get live updates on your group's tour location
NST's new trip tracker, Locate My Trip, is the easy, convenient way for your school to follow your group's location whilst on tour.
Our app has been specifically designed to provide reassurance to both parents and teachers.
Watch our short Locate My Trip video here.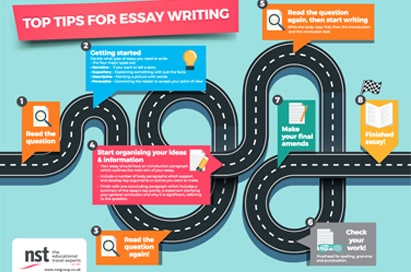 Free classroom resources
We've created a range of free resources and educational posters to brighten up your classroom!
Take a look at our downloadable posters.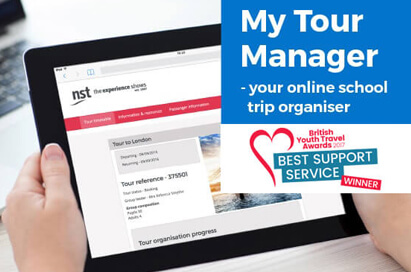 Your online school trip organiser - My Tour Manager
Your online school trip organiser - My Tour Manager
Save time and stay on track with your school trip admin with our online orgnaniser - designed to help busy teachers like you.
With My Tour Manager, you'll be able to download FREE resources and access trip paperwork online and in one place. Your personalised checklist details what you need to do and by when, plus you'll receive fortnightly reminders too.
What's more, you can take all your trip documents on the go whilst on your tour with our app, My Tour Manager-On-the-Go.
Find out more and watch our short My Tour Manager video here.
Looking for protection on your next school trip?
Booking with a school travel company is the best way for you to protect parents' money and give yourself peace of mind.

Don't forget – if your school arranges transport, accommodation and other services directly, you'll be liable under the Package Travel Regulations – meaning you'll have all the responsibilities of a travel company, both legal and financial.
Financial protection from the moment you book
NST are fully bonded:
Managing safety on school trips
For your protection, NST's independently audited Safety Management System covers:
24-hour emergency cover
Audited accommodation & transport
Excursions & school visit assessment
Group leader preview visits to assist with risk assessment planning
We are LOtC Council's Quality Badge assured
The Department for Education advising schools to always to look for the LOtC Quality Badge when finding a school travel provider.