Computer Studies & Computing School Trips & Tours
A computing and computer science school trip to one of our popular destinations is sure to keep your pupils excited and inspired! With a diverse range of computing destinations including Berlin, New York and Silicon Valley, there is no shortage of tours to inspire and educate your pupils about the history and application of computers.
We understand that the change from ICT to computer science in the curriculum is a significant one, and we want to support teachers with educational tours which will help inspire the next generation of computer scientists by showing them the practical application of the subject in an exciting and informative way.
With half a century's experience under our belt, today we're able to offer you so much choice, advice, reassurance and support every step of the way: curriculum-linked visit experiences; destination knowledge; the reassurance of safety management and financial protection; and of course our full support whilst you're away.
Computer science school trip destinations
Our most popular computer science school trip destinations...
Silicon Valley
The world's leading centre of both exciting start ups and huge tech companies like Apple, Google and Facebook. San Francisco's Silicon Valley is the perfect destination for a budding computer scientist, with an opportunity to learn how computer science is helping to shape the world of tomorrow. Learn more...
Berlin
Few are aware that Germany is the largest exporter of technology in Europe. Berlin is at the heart of this technological revolution, with a tour here providing students with the chance to learn about both the history of computer science and its future applications. View more details
Take a look at one of our student adventures...
Additional support, resources & information: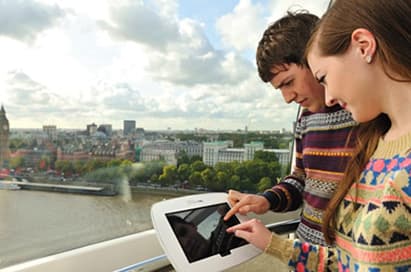 With NST, you'll get your own dedicated, knowledgeable Tour Co-ordinator who'll work with you from start to finish. You'll benefit from their unrivalled destination knowledge, and their experience gained from working with many other groups too. They'll tailor-make your itinerary from scratch and take care of everything for you:

- Pulling together an itinerary that runs smoothly
- Planning the right balance of visits every day with realistic timings
- Pre-arranging and pre-booking your visits, entrance tickets, passes and meals

You'll receive your final itinerary a full 4-weeks before you travel too.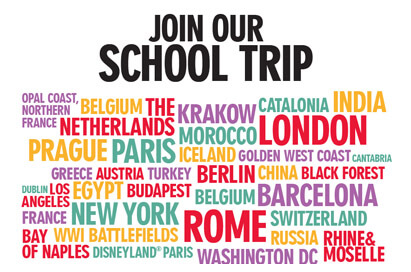 FREE school trip promotion pack
We'll support you and provide everything you need to advertise your school trip around school and to parents. Our free school trip promotion pack consists of:

- Parents' letter & permission slip template for you to complete
- A3 posters to promote your trip around school
- PowerPoint presentation templates which you can tailor to your own needs
- Parents' leaflets covering how NST manage safety, financial protection and details of our travel insurance
- Online parents' video which showcases the benefits of taking a school trip

For selected destinations, we'll provide a trip launch web page using video footage and imagery. This web page is provided by a weblink and can be shared with pupils and parents in many ways.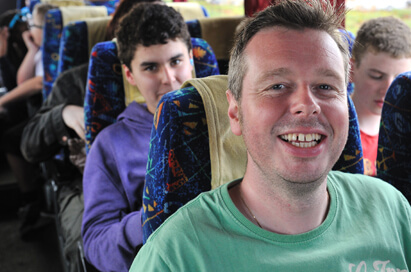 Risk assessment support including preview visits
Risk assessment plays a vitally important part in the planning and organisation on any school tour.

Our risk assessment guide aims to help you understand more about your obligations and how you can more effectively manage group safety on your next educational visit and provide you with risk assessments for your trip.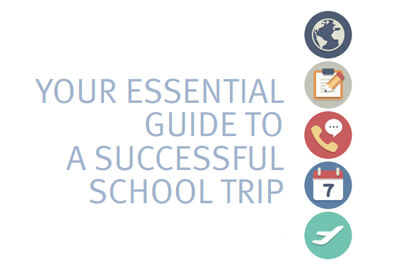 Planning first school trip
Organising your first school trip can appear to be a daunting process.  If you're planning your first school trip, our guide will help to take you through each step of the planning process, answering frequently asked questions and providing tips and support along the way.  Our helpful guide covers the following: 

- Choosing your destination 
- Gaining approval from your Local Authority and/or your Head 
- Promoting your tour in school 
- Confirming your booking
- Tailor-make your tour
- Completing your risk assessments (including a sample risk assessment) 
- Quick reference timeline 
- Pre-tour checklist 

View our essential guide to a successful school trip here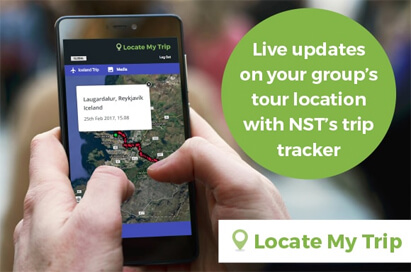 Get live updates on your group's tour location
NST's new trip tracker, Locate My Trip, is the easy, convenient way for your school to follow your group's location whilst on tour. 

Our app has been specifically designed to provide reassurance to both parents and teachers. 

Watch our short Locate My Trip video here.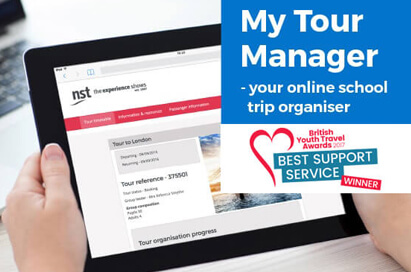 Your online school trip organiser - My Tour Manager
Save time and stay on track with your school trip admin with our online orgnaniser - designed to help busy teachers like you. 

With My Tour Manager, you'll be able to download FREE resources and access trip paperwork online and in one place. Your personalised checklist details what you need to do and by when, plus you'll receive fortnightly reminders too. 

What's more, you can take all your trip documents on the go whilst on your tour with our app, My Tour Manager-On-the-Go. 

Find out more and watch out short My Tour Manager video here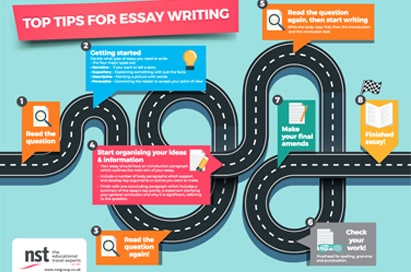 We've created a range of free resources and educational posters to brighten up your classroom! 

Take a look at our downloadable posters here
Planning your first school trip?
If you're planning your first computer science school trip, our essential guide will take you through each step of the process...
Choosing your destination
Gaining approval from your Local Authority and/or your Head
Promoting your tour in school
Confirming your booking
Tailor-make your tour
Completing your risk assessments (including a sample risk assessment)
Quick reference timeline
Pre-tour checklist
Speak to one of our school travel experts
Our team of school travel experts have unrivalled destination knowledge and experience so they can help to bring your tour ideas to life and might even suggest options you hadn't already thought of too! So get in touch today and we'll help to create a bespoke, budget-friendly tour itinerary to meet your specific learning requirements.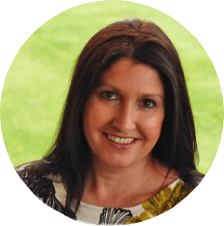 Here's why thousands of teachers choose NST each year...
Your dedicated computer science tour co-ordinator will use their unrivalled local knowledge and expertise to create a tailor-made, curriculum-linked itinerary to meet your group's exact needs.
With our online school trip organiser, travel app, free classroom posters and trip launch resources to support your in-school promotion.
Free group leader inspection visits
We offer a free inspection visit to your chosen destination to support your risk assessment planning.
We're committed to bringing you the best possible value trips to help make every penny count.
More than 50 years' experience
With over 50 years' experience, with NST you can rest assured that your group is in safe hands.
Our risk assessment guidance will help you to manage group safety on your next educational trip.
Your group's location can be followed with our trip tracking device - Locate My Trip - plus you'll have 24/7 support from us whilst you're away.​