School Trips to Switzerland
Between the endless mountain ranges, castles, lakes and, of course, chocolate, it's easy to see why Switzerland makes an ideal setting for a unforgettable learning experience.
At NST, we pride ourselves on tailoring school trips to Switzerland that meet the specific needs of each individual school we work with. We organise plenty of science and geography focussed trips to this area, though we can also create bespoke itineraries that give young people a chance to experience the nation's best sites and landmarks.
Despite being a relatively small country, Switzerland is famed for its rich and diverse landscape situated in the heart of Europe's largest mountain range – the Alps. Popular Swiss Alp geography visits for school groups include the imposing peak of the Matterhorn, the well-known resort of Zermatt, the proposed Winter Olympic centre of Sion and Mattmark's hydroelectric dam all within easy reach.
Beyond the mountainous terrain, the Valais region is also home to an array of magnificent glaciers, icy rivers and giant moraines. The Rhone valley dominates the area, yet there are numerous offshoots and side valleys that are perfect for exploring. The Great Aletsch glacier, composed of an incredible 27 tons of ice, is perhaps the most well-known example of these and is easily accessible for walking groups.
The entire area is also a natural ecosystem for a huge number of unique animal and plant species that are native to the Swiss alps. Special protective measures are in place to safeguard animal populations such as the ibex, chamois and marmot, all of which have been enjoying a resurgence in numbers as a result. A trip to this stunning region of Switzerland not only offers pupils a great opportunity to learn about these habitats and natural structures through guided hikes and tours of the area, but also to learn more about hands on data collection and fieldwork techniques.
For those classes who are predominantly focussed on science, geography or sociology, Geneva is a prime location to experience mind-blowing exhibitions at CERN, the Museum of Natural History, the United Nations headquarters and the International Red Cross Museum. Our team of experienced travel advisors have been organising educational excursions for over half a century, so it's safe to say we know a thing or two about making the most of any school trip.
We are always on hand to talk through and tailor a full itinerary to meet the exact requirements of your class. We work with teachers and key stakeholders to ensure a watertight schedule that takes away any hassle involved with tickets, travel and accommodation on a Switzerland school trip.
Learn more about our school trips to Switzerland
Geneva is the second-largest city in Switzerland and one of the world's major financial hubs.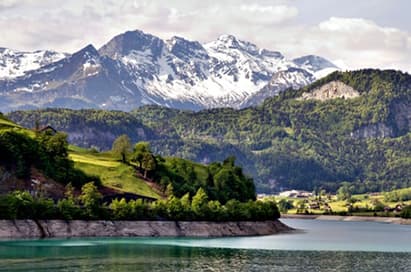 School Trips to the Swiss Alps