School trips to Valencia
Situated on the southeast coast of Spain, Valencia is an ideal destination for Spanish language students looking to explore Hispanic culture in a wonderfully vibrant city.
Combined with an array of language enrichment experiences and cultural visits, a Spanish language study tour to Valencia enhances classroom-based learning by giving pupils the opportunity to practice conversational Spanish, listening skills and increase confidence in their ability.
Valencia is widely known for its City of Arts & Sciences, a state-of-the-art cultural park which includes interactive museums, unique architecture, performing arts spaces and the largest aquarium in Europe. It is considered one of the most engaging modern quarters across the whole of Europe.
A school trip to Valencia also gives language students the opportunity to sample traditional markets, authentic Gothic architecture, and, of course, plenty of oranges!
If you're looking for more planning tips and advice, get in touch with one of our expert travel advisors today – we're always happy to help with your next school trip to Valencia.
Learn more about our Valencia school trips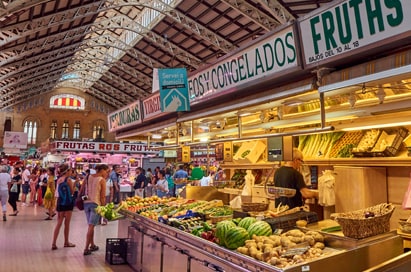 Valencia Spanish Language School Trips & Tours
A visit to Valencia, the third largest city in Spain, will reinforce your classroom based learning by surrounding your pupils with native speakers and immersing them in the culture and daily rhythms of the city they call the 'mini Barcelona'.