The No. 1 Choice for WWI Centenary Tours
During the centenary of WWI, there could be no better time for pupils to commemorate and reflect upon the huge national and international significance of the war. Travel with NST on a WWI centenary tour and give your pupils a unique and unforgettable experience.
Centenary experiences - only available with NST
At NST, we've worked hard to bring History groups great value for money and improved benefits when you choose to travel with us on a WWI centenary tour.
Our range of special WWI centenary tour options allow you to choose the ideal experience for your group, that will encourage your pupils to connect with and understand the history and lasting impact of the war in a unique and memorable way. We can create a bespoke tour package to suit your exact learning requirements and budget.
NEW for 2017/18 – Medicine and Surgery artefacts now available at Château d'Ebblinghem – to give pupils a better understanding of medical progression during the war.
Benefits & Activities
WWI Centenary Memento Pin-Badges
As a thank you for booking with NST, all pupils travelling on a WWI Centenary tour... will receive a FREE Imperial War Museum WWI Centenary memento pin-badge!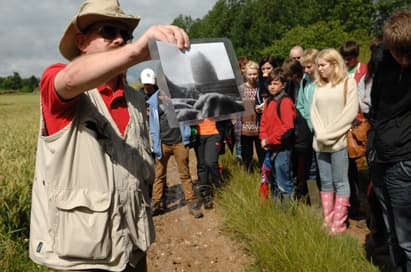 Your NST Educationalist Guide will provide local knowledge together with practical and specialist educational support to aid your pupils. Through vivid narrative, and by allowing your group to have a close-up look at WWI artefacts, your guide will help to paint a picture, encouraging learning and recall once pupils have returned to the classroom. We can even personalise your experience and trace the footsteps of your local battalion or visit the grave of a relative.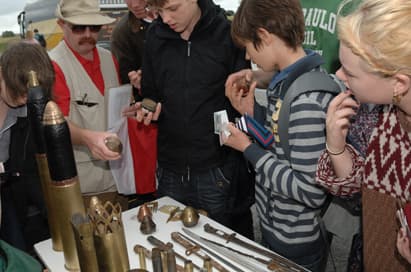 History in your hands: Viewing WWI artefacts
During our guided WWI centenary tours pupils have the invaluable opportunity to view a range of artefacts and personal items from the war. Our guides carry a number of items with them which students can handle, helping to evoke the atmosphere of the war and aiding students in their understanding of the realities of trench life, regimental structures, loyalties and tactical issues. Examples of items include whistles, replica medals, drill rounds, regimental cap badges, and button sticks. NEW for 2017/18 – Medicine and Surgery artefacts now available at Château d'Ebblinghem – to give pupils a better understanding of medical progression during the war.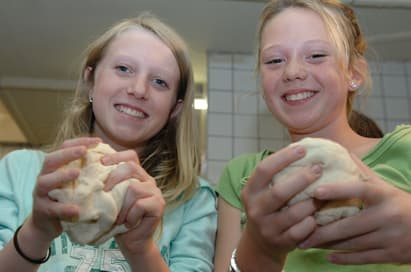 WWI Experiences at the Château
If your group is staying at NST's Château d'Ebblinghem, you will be able to have a go at baking, and later tasting, traditional 'army biscuits' which soldiers would have eaten during WWI. Your pupils will also gain a practical understanding of the war by trying on replica wartime uniforms. This includes trying on puttees (a strip of cloth wrapped around the ankle which was worn as part of military uniform).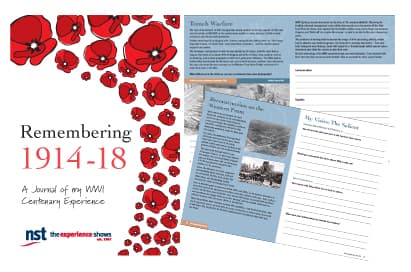 All pupils travelling with NST on a WWI centenary tour until 2018 can download a FREE Remembrance Journal to record their learning experience and memories. These special journals provide pupils with an outline of WWI history, together with thought-provoking questions to give pupils a focus for learning during their trip and to encourage them to reflect on their experience.
Journey's End performance - 10th October to 12th November 2018
We're delighted to announce that we are proud to partner with MESH Theatre once again returning to Ypres with their production of WWI drama Journey's End. The performance will run from 10th October to 12th November, marking the final weeks of the war leading up-to Armistice Day. A production of R C Sheriff's ground-breaking play exposing the tragedy and horror of conflict. 'Journey's End' is set in a dugout over four days leading up to a massive German attack on the British trenches in 1917, it charts the tension, claustrophobia and cold terror experienced by a company of officers as new recruit, Lieutenant Raleigh, discovers Captain Stanhope, his childhood friend and hero, has changed almost beyond recognition. The play is performed at Ypres iconic Ammunitions Dump. With simulated gun-fire and shell bursts adding to the eerie atmosphere, your pupils will be taken on an emotional journey through the eyes of a small group of British soldiers. We can offer tickets for this amazing production to school groups taking a tour with us.
Specialist Knowledge & Support
With more than 45 years' experience of expertly planning History tours, we'll plan an itinerary to take your group to the Somme, Ypres Salient and lesser known locations off the beaten track, allowing your students to learn from a wealth of WWI sites, special centenary events and excursions. Whatever your requirements and budget, we can create a memorable WWI centenary tour experience for your group and help you to get the very most from your time outside the classroom.
NST's Château d'Ebblinghem
During WWI, NST's Château d'Ebblinghem was used as the headquarters by the 4th Cavalry Brigade. By staying in a place that played an important role during this period in history, your group will have the opportunity to enjoy an authentic WWI experience.