Meet The Field Studies Guides: Rob Richardson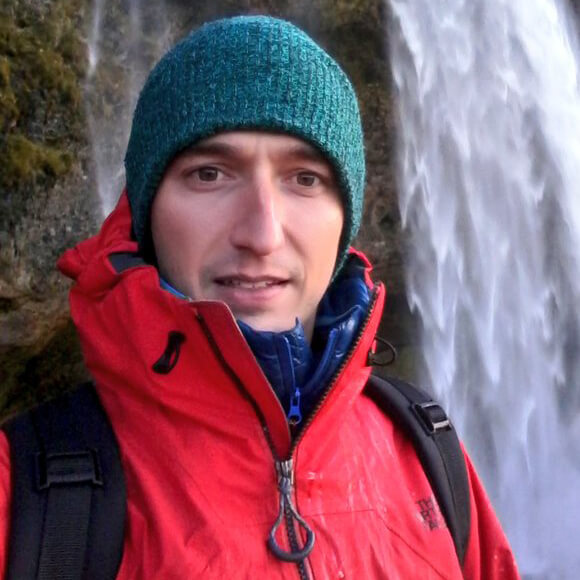 A geology masters graduate and qualified mountain leader specialising in Volcanology and Glaciology, Rob enjoys helping people learn about amazing places around the world. He has undertaken fieldwork in Iceland and the Alps, and been involved with expeditions across Scandinavia and Arctic Canada.
Read more about the role of our FSGs here >>
What's your background when it comes to Geography?
I always enjoyed geography at school and during sixth form had a weekend job as a tour guide in a show cave in the Yorkshire Dales, for which I had to learn all about the local geography and geology. When looking at my university choices I wanted to combine elements of geography with science, therefore, I chose to study Geology at the University of Liverpool, graduating with a first class masters degree in 2008.
What's your favourite part of being a Field Studies Guide for NST?
Getting the opportunity to show students amazing geography/geology first hand; text books are good but nothing beats seeing it for real!
What drew you to the role?
I have always loved travelling, so getting the opportunity to travel for a job was quite a large part of what attracted me to the roll. However, it also allows me to use aspects of my degree and pass on some of that knowledge, and hopefully enthusiasm, to the groups on my tours.
What's the most interesting thing you've done in your role as an FSG?
Laying in the snow watching the Northern Lights!
If you could only pick one visit in Iceland to take tours to, which would it be and why?
Skaftafell National Park & Jokulsarlon: I spent a summer living in this area a few years ago and it is breathtakingly stunning. Huge volcanic mountains, amazing glaciers, the iceberg lake and expansive sandurs...just awesome.
Being an FSG is quite a unique role, if any pupils or even teachers wanted to do it for a living, what advice would you give them?
A question I get asked by almost every group! A background knowledge of either geography or geology is a best foundation to allow the proficient teaching of the subject in the field. After that I would recommend someone gains their mountain leader award. This gives you the qualification to lead groups efficiently in what could be very challenging environments and conditions.
Outside of your work for NST, I imagine you do a lot of travelling – what's the most exotic place you have been?
I have been lucky to have the opportunity to travel to many places around the World, however, there are two expeditions that really stand out for me. One was to Tanzania leading a young persons challenge group on Mt.Meru and Mt.Kilimanjaro, along with a taking part in a project week in a children's home and a safari. The other was a science expedition to Arctic Canada, where I was one of a team of recent graduates from various scientific backgrounds undertaking environmental research while trekking across the remote Baffin Island.
What are your future travel plans and why have you chosen those destinations?
Although I have travelled to many countries, I still have plenty of plans for the UK. There are many Scottish mountains left to conquer and islands to visit, therefore, I hope to enjoy some time exploring a little closer to home over the coming few years. However, I will never say no to an overseas expedition if one were to come around the corner.
In your studies of Geography what aspect of it interests you the most?
My specialities during my degree were volcanology, glaciology, sedimentology and climatology, however, I think my favourite has to be volcanology as it is one of the most powerful and active geological/geographical processes on earth. Studying volcanoes you get the opportunity to really see the living Earth.
Spending a lot of time in Iceland you must have some great insight into their culture, what one thing about the Icelandic people is different to us Brits? Are they different at all?
Icelanders are very proud of their Viking heritage, with various Viking quirks still surviving to this day. They also have a few interesting sporting hobbies (E.g. Formula Off-road racing). As a whole I think Icelanders are more relaxed than the UK public, although they do tend to be very 'to-the-point' in their mannerisms. Given the nature of Iceland's formation, Icelanders are also far more in touch with nature and the outdoors than the UK public, having to deal with extreme weather, earthquakes and volcanic eruptions on a regular basis.
If you couldn't be an FSG in Iceland which other country would you want to be an FSG in?
Any countries with volcanoes and/or dramatic mountains.
Does lying in the snow and watching the Northern Lights sound like something you and your pupils would love to do? Then why not check out our trips to Iceland!