Latest offers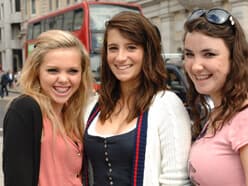 Great value day trips
Day trips are ideal for groups on a budget & with limited time out of the classroom.
London Science Day School Trips
This exciting destination offers pupils the opportunity to explore a range of science themes at a number of intriguing visits and hands-on workshops, whilst also enjoying a big city experience. We'll tailor-make your itinerary to suit your group's specific learning requirements to include the best visits and attractions at great value for money.
Pupils can witness science in the past, present and future across a broad spectrum of scientific topics: astronomy, biology, chemistry, environmental science, geology, mathematics, physics technology and more.
Executive coach transport from and to school
Group travel insurance
1 in 8 free place ratio
Price shown is based on 40 paying passengers departing from the Midlands, East Anglia and Central Wales between 1st May & 31st July 2016 and is subject to availability.
---
On-tour support
On-tour support available...
Pre-booked meals at great group prices
Pre-booked and pre-paid London Underground tickets
---
Top visits
3D Printing Workshop - DNA and Protein Visualisation (Biology)
2D drawings can never fully convey the complexity and elegance of DNA or protein structures. Help your pupils
visualise fundamental biological building blocks of life, and take away 3D printed models for pupils to analyse.
3D Printing Workshop - Mars Rover Design (STEM, Engineering and Design)
Space exploration goes 3D as your pupils plan, design and prototype a concept vehicle for Mars. This project is perfect for STEM learning and getting pupils thinking about life-supporting conditions on another planet.
3D Printing Workshop - Design by Nature (Biology and Design)
Use 3D printing to engage study of evolution and plant biology. Show how leaf shape and size has evolved to perfectly adapt to their climate, designing and 3D printing your own leaf.
L'Oreal Young Scientist Centre - Make and Test Your Own Shampoo
Produce your own version of a shampoo and compare it to the commercial product.
L'Oreal Young Scientist Centre - Extract Your Own DNA
Learn about DNA molecules, extract your own DNA and create a necklace to take away.
L'Oreal Young Scientist Centre - Cosmetic Chemistry
Get hands on and make bath bombs and lip balms whilst learning some fundamental chemistry.
L'Oreal Young Scientist Centre - High Velocity Eggsporter
Build and crash test a vehicle on a specially designed rig then analyse the results using high-speed photography.
L'Oreal Young Scientist Centre - Forensics Workshop
A great introduction to genetics and forensic analysis with the opportunity to use modern molecular biological techniques to test DNA samples.
L'Oreal Young Scientist Centre - A Question of Taste
Extract your own DNA using modern techniques and equipment only found in research laboratories.
This environmental education facility at the heart of Hyde Park offers half day sessions for science pupils, including Science in the Royal Parks (looking at the different careers in the parks which use science), Food Chains & Webs, Talk About the Weather, Unlocking Classification and Local Nature Conservation.
Placing science in context, this is the first science education centre in the world to be located within medical laboratories. Pupils will experience unique science shows, digital interactive games, human specimens and interactive microscopes. All groups are joined by a STEM ambassador who pupils can question about the life of a scientist and their own career choices.
We can also book you a fun-filled and curriculum linked Science Show or Workshop. The content relates to cells and the human body, and all of the Shows and Workshops have specific curriculum links.
Get on board a world's first, erren Brown's Ghost Train at THORPE PARK Resort.
Crafted by the master of mind control, Derren Brown, this one-of-a-kind 10-15 minute theme park experience will be the world's only fully immersive attraction designed to manipulate the human mind. At the heart of the island you discover a disused warehouse. As you enter a seemingly innocent Victorian train carriage, it soon becomes clear as sights and sounds fill your senses, that you will come face-to-face with what lies at the end of the line.
Prepare to derail your mind on a ghost train re-invented for the 21st century that will leave you questioning where perception ends and reality begins.
Educational Workshops
THORPE PARK Resort provides opportunities for learning with a range of curriculum-linked educational workshops including Marketing THORPE PARK Resort, THORPE PARK Resort as a Business and The Science of Roller Coasters. You'll be able to download risk assessments for free and educational resources to lengthen your pupils' experience. To assist with pre-visit planning, THORPE PARK Resort will provide two complimentary teacher tickets to the park once you have confirmed your booking.
The LEGOLAND® Windsor Resort is the ideal destination for families with children aged 2-12, with over 55 interactive rides, live shows and attractions all set over 150 acres of beautiful parkland. Step into Heartlake City world of the LEGO® Friends, soar through the air on the Dragon rollercoaster, make a splash in DUPLO® Valley, discover a world of awesome sea creatures on Atlantis Submarine Voyage or earn your very first driving licence in the LEGO City Driving School. Awesome awaits at the LEGOLAND Windsor Resort.
LEGO, the LEGO logo and LEGOLAND are trademarks of the LEGO Group. ©2016 The LEGO Group.
Cross-Curricular Workshop
You can choose from a range of hands-on workshops specifically designed to help launch and support classroom topics in an unforgettable way. It's the perfect introduction to the exciting world of maths, science and ICT in a fun and safe environment. The LEGO© Atlantis Submarine Voyage workshop – Understanding Underwater – provides cross-curricular links to science and design & technology, a hands-on active science experience that can only be found at LEGOLAND® Windsor Resort.
---
Transport
Available from any location in the UK, our executive coaches are fitted with seatbelts, toilet facilities, air conditioning, DVD and reclining seats.

Coach
Rail is a convenient travel option for small groups, with ideal for connections to Eurostar, major airports and travel to many city destinations.

Train
---
Giving you full support throughout
Before your tour
Your own dedicated NST contact
Bespoke tour itineraries
Unrivalled local knowledge & expertise
Curriculum linked visit programmes
Great value for money - no hidden costs
Free group leader inspection visits
Risk assessment guidance
Safety assured, transport, accommodation and visits
Whilst you're away
Free educational resources
Group-friendly accommodation
Exceptional standards of coaching
On-tour support from our reps on the ground
Support & assistance from our specialists guides throughout your tour
24/7 support just a call away
Extensive group travel insurance
On your return
Priority rebooking services
Rewarding your loyalty with our reward scheme
You say, we listen - we're committed to continuously improving our tours
School travel company of choice since 1967
---